Honey Mustard Chicken Wraps
These Honey Mustard Chicken wraps are easy, flavorful and perfect for meal prep. 
Jump to Recipe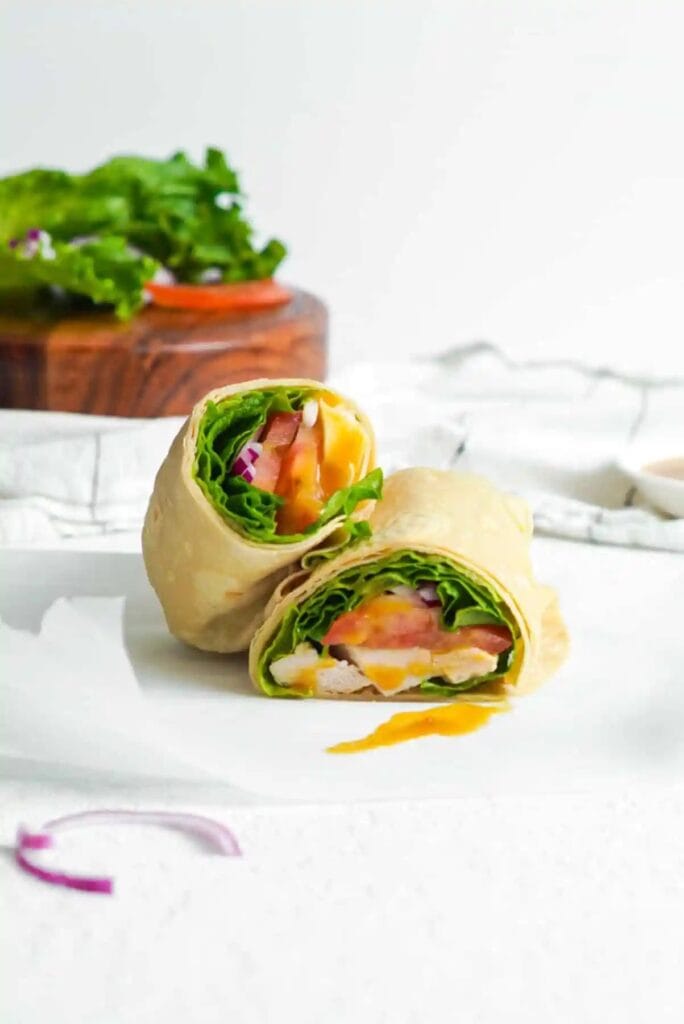 Honey Mustard Chicken Wraps are perfect for meal prep Sundays. They're quick and delicious.
Why you'll love this recipe
Quick and easy.
High protein.
Flavorful.
Easy meal prep.
Macro friendly.
Chicken can be used in other ways giving you multiple meal prep options.
Ingredients and Substitutes:
CHICKEN: you could alternatively use rotisserie chicken and just add the honey mustard sauce to your wraps.
HONEY: while honey is the best option here and is it honey mustard you could swap with maple syrup, sugar of any kind or date paste.
DIJON MUSTARD: key ingredient. I would not recommend swapping.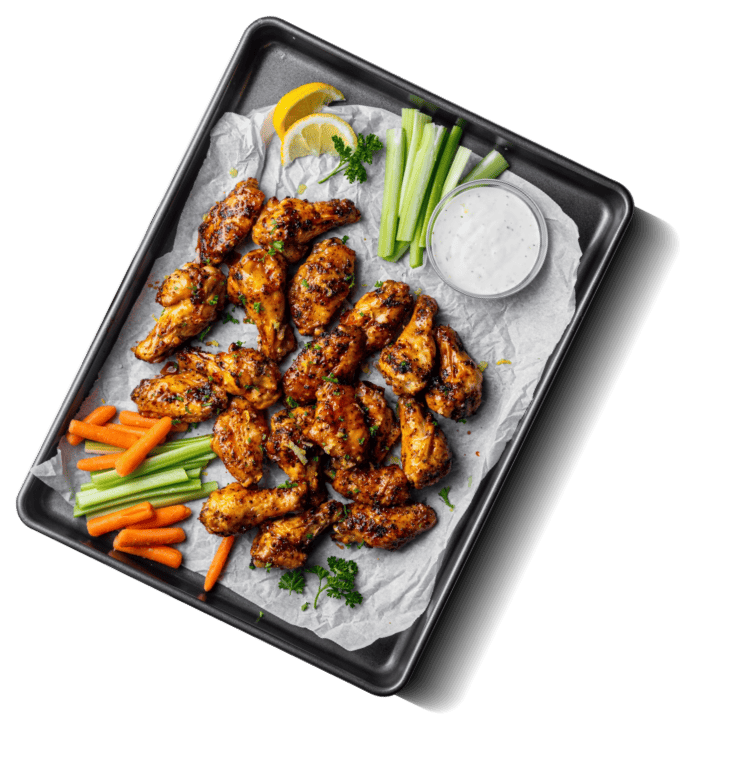 STay in the know!
NEVER MISS A RECIPE
Sign up for free and be the first to get notified about updates.​
GARLIC: you can omit if needed.
WRAPS: These Tumaro's Protein Wraps have quickly become my favorite. Each wrap has 9 grams of protein. If you use these wraps, the macros are listed in the recipe instructions. I have also listed the macros for just chicken in case you would like to swap out with other wraps.
TOPPINGS: green leaf lettuce, tomato, onions and any other toppings that sound good to you!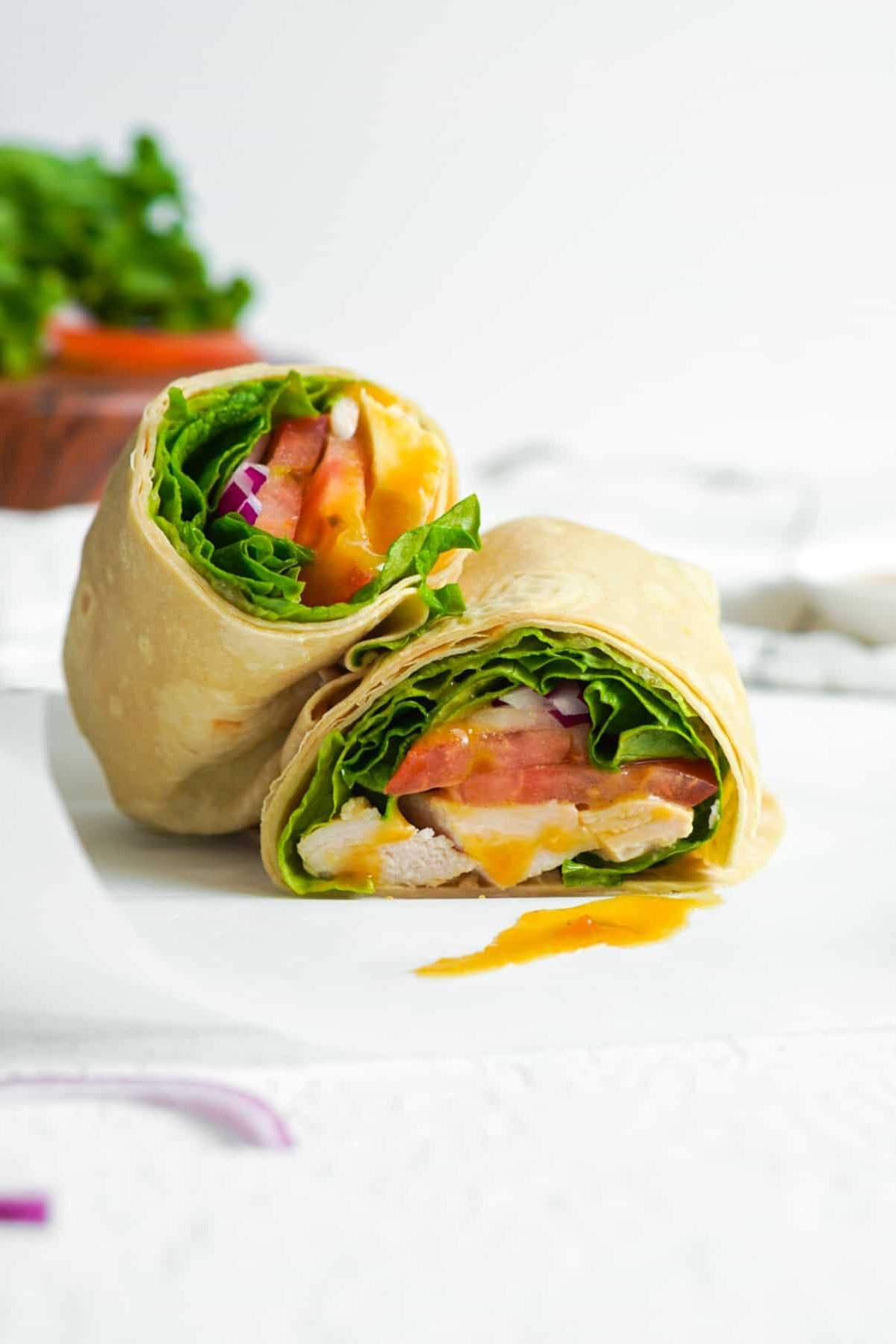 Instructions:
Step 1
PRE HEAT AND PREP: Pre heat oven to 375 degrees F. Remove chicken from package and butterfly into thin cut slices. I use 2 breast and butterfly and cut in half so that you have 4 thinly sliced chicken breasts.
Please chicken on a baking sheet.
Step 2
HONEY MUSTARD: In a small bowl mix together all honey mustard sauce ingredients. Reserve a small bowl of honey mustard for topping your wrap. Pour the honey mustard over the chicken and be sure to get both sides covered.
Step 3
BAKE: Bake 375 degrees F for 20 minutes until the chicken is fully cooked.
Step 4
SLICE: Remove chicken from oven and cut into strips. Coat in the honey mustard.
Step 5
ASSEMBLE YOUR WRAP: Lay one wrap down and top with lettuce, tomato, onion, chicken, extra honey mustard sauce and roll like a burrito into a wrap. Cut in half and enjoy.
Nutrition Facts:
Nutrition facts: 1 Tumaro White Protein Wrap, 1 leaf green leaf lettuce, 1 sliced tomato, thinly sliced red onion, 3 oz. cooked chicken breast, extra drizzle of honey mustard.
1 wrap: 301 cals: 45 P / 31 C / 4 F
Nutrition facts for 3 oz. cooked chicken with honey mustard drizzle: 212 cals 35 P / 18 C / 1 F
Notes: 1 lbs. raw chicken makes approximately 12 oz. cooked chicken.
If you like this recipe be sure to check out some of our other easy meals!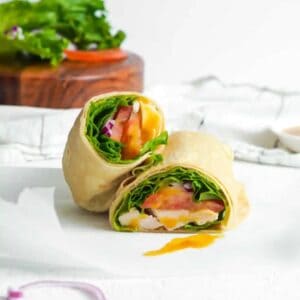 Honey Mustard Chicken Wraps
These Honey Mustard Chicken wraps are easy, flavorful and perfect for meal prep. 
📱 MyFitnessPal & MacrosFirst App Users
You can find this recipe and many others on MyFitnessPal and MacrosFirst by searching: Ohsnapmacros – Honey Mustard Chicken Wraps
Ingredients
1

lbs

chicken breast, 2 breasts butterflied

4

Tumaros White Protein wraps

4

medium tomato slices

Green leaf lettuce

Sliced red onion
Honey Mustard Sauce:
4

Tbsp

Honey (85g)

1/3

cup

Dijon mustard (85g)

1

garlic clove, minced

salt and pepper
Instructions
Pre heat oven to 375 degrees F. Remove chicken from package and butterfly into thin cut slices. I use 2 breast and butterfly and cut in half so that you have 4 thinly sliced chicken breasts.

Please chicken on a baking sheet.

In a small bowl mix together all honey mustard sauce ingredients. Reserve a small bowl of honey mustard for topping your wrap. Pour the honey mustard over the chicken and be sure to get both sides covered.

Bake 375 degrees F for 20 minutes until the chicken is fully cooked.

Remove chicken from oven and cut into strips. Coat in the honey mustard.

Assemble your wrap. Lay one wrap down and top with lettuce, tomato, onion, chicken, extra honey mustard sauce and roll into a wrap. Cut in half and enjoy.

Nutrition facts for: 1 Tumaro White Protein Wrap, 1 leaf green leaf lettuce, 1 sliced tomato, thinly sliced red onion, 3 oz. cooked chicken breast, extra drizzle of honey mustard. 1 wrap: 301 cals: 45 P / 31 C / 4 F Notes: 1 lbs. raw chicken makes approximately 12 oz. cooked chicken. Nutrition facts for 3 oz. cooked chicken with honey mustard drizzle: 212 cals 35 P / 18 C / 1 F
Nutrition
Calories:
301
kcal
Carbohydrates:
31
g
Protein:
45
g
Fat:
4
g