Macro Friendly Costco Haul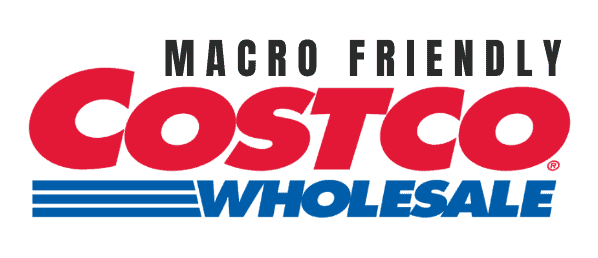 The most commonly asked question I get is where do I shop. The short answer: Carrs, Fred Meyer, Target and my favorite place … Costco. This list is not a comprehensive list, it will continue to be added to as I find new items that become our favorites.
This is a list of Macro Friendly items we frequently pick up from Costco. We genuinely enjoy these items and have purchased them time and time again. This post is in no way sponsored by Costco, however, I would not turn that opportunity down.
Refrigerator Section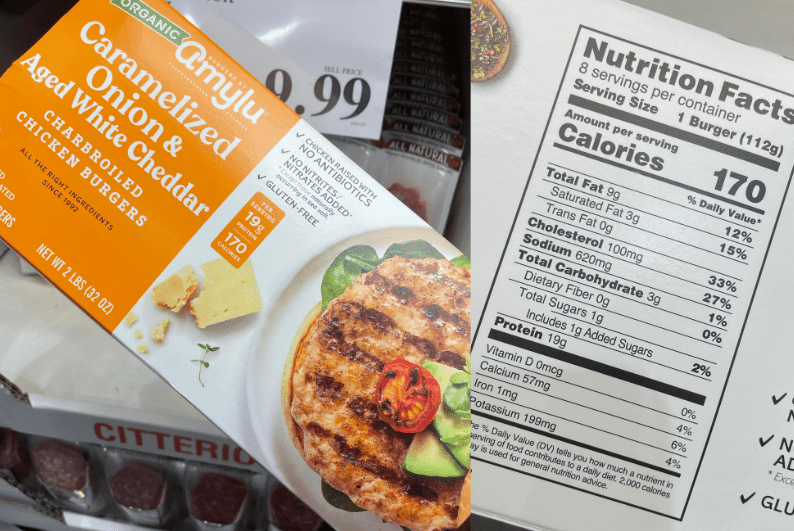 The infamous Amylu Caramelized Onion & Aged White Cheddar Charbroiled Chicken Burger. I eat these weekly. It does not matter the time of day I can eat these at every single meal and never get tired of them. They're easily microwaved, BBQ'd or pan seared and they are incredible. So much flavor and terrific macros. 170 cals per patty 9 F / 3 C / 15 P. The chicken breakfast sausages are also great.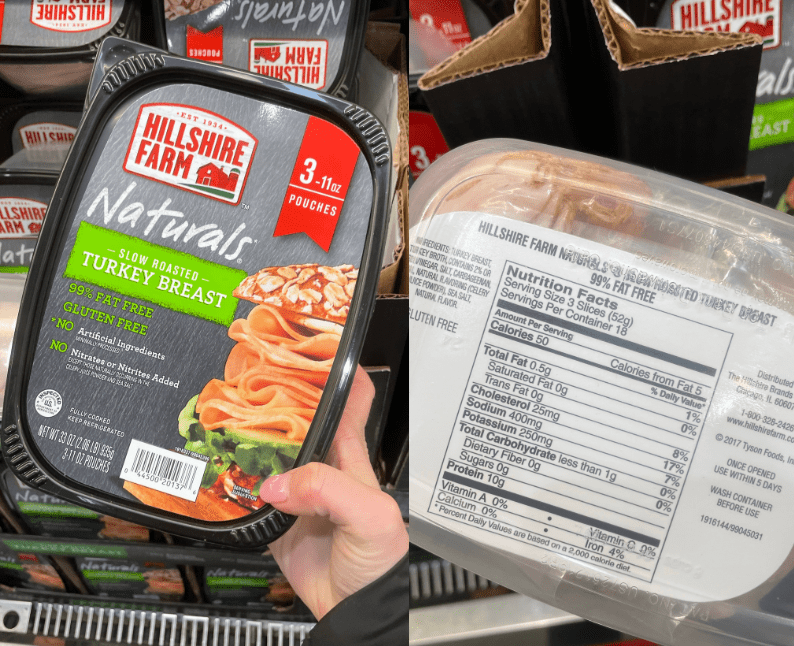 What will you do with 33 oz. of turkey breast you might ask? Everything. One of my favorite ways to get easy protein in is adding deli turkey to a snack plate. 1 serving is 10 grams of protein and this deli meat has no weird taste, texture or slime like some can have. Save the container too for sending holiday guests with leftovers. 32 grams = 50 cals 0.5 F / less than 1 C / 10 P. I also get Roast Beef from here to make Rueben sandwiches and wraps.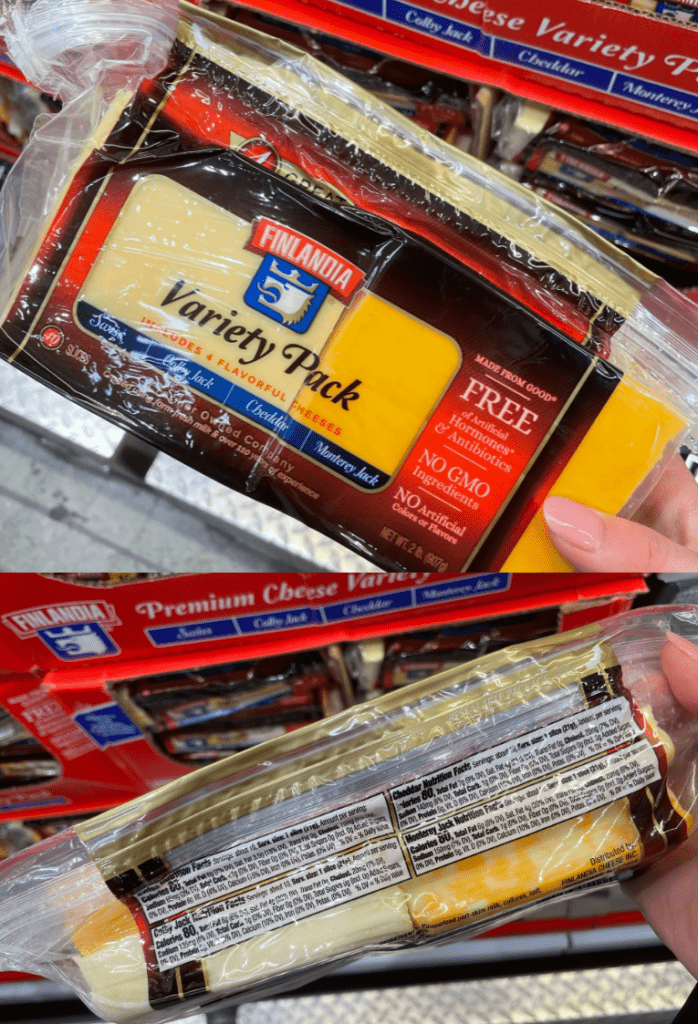 Cheese please and cheese on everything. Variety pack. 80 cals per slice.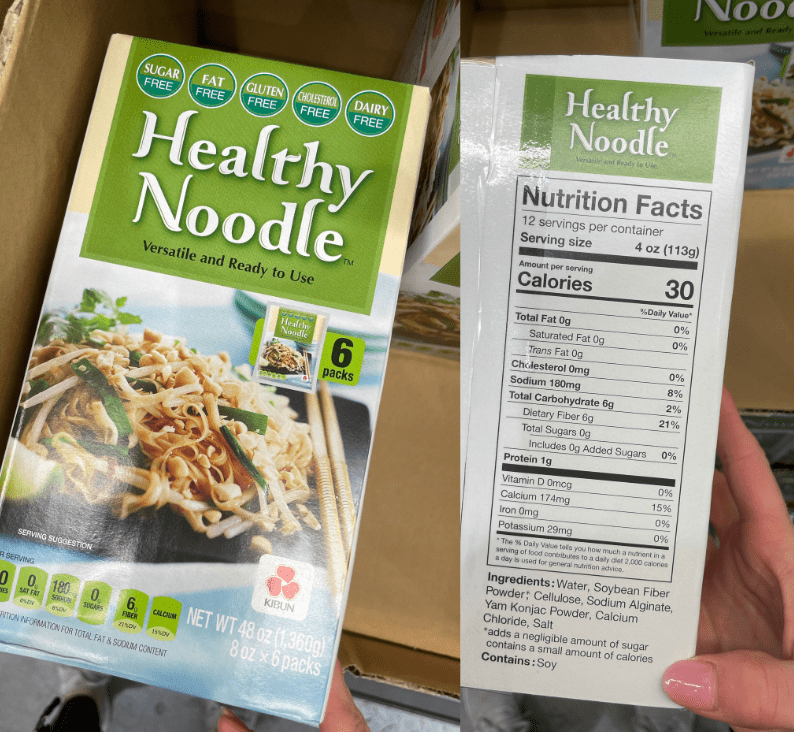 If you're never had Healthy Noodles I would grab them on your next trip. They do not have the weird smell or film some of the other "faux noodles" have and they are the closest thing I have found to a noodle. Add to my Chicken Lo Mein , Blackened Shrimp Alfredo or any of my other noodle dish for added volume. 1 bag is two servings. Even then 1 full bag is 60 calories. 0 F / 12 C / 2 P – can you beat that?? Nope. Try them and let me know what you think. This is something we always have in the fridge.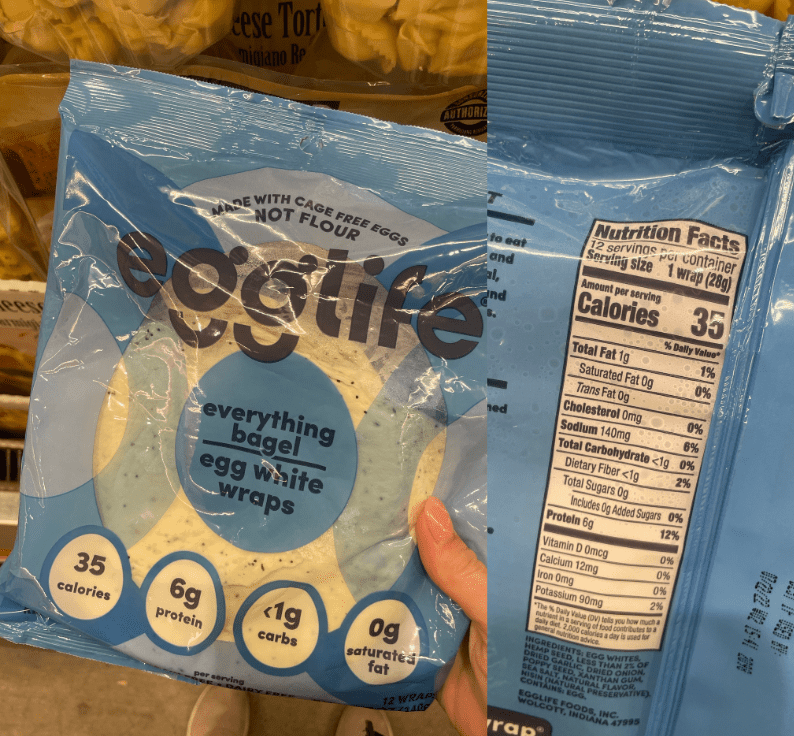 These have been a game changer for me. They hold together so well and taste great! I have been adding half a Amylu burger folder inside one wrap with lettuce and no condiments and it is delicious! 1 wrap 35 cals 1 F / <1 C / 6 P.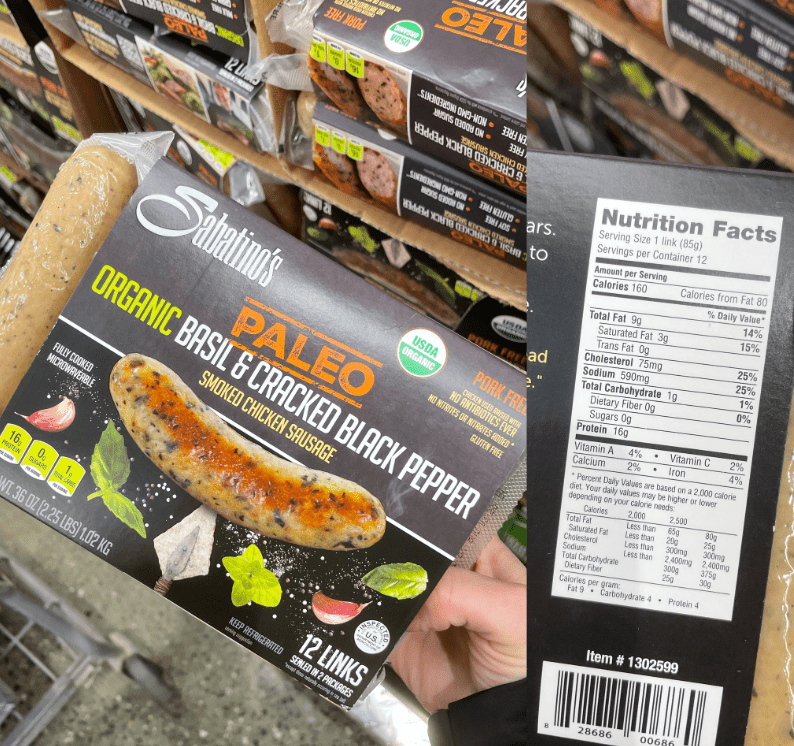 Super flavorful and pre cooked so they make dinner quick and easy. Take these camping and throw on the grill for something different than hot dogs and burgers. 1 link 160 cals 3 F / 1 C / 16 P. Also clean ingredients.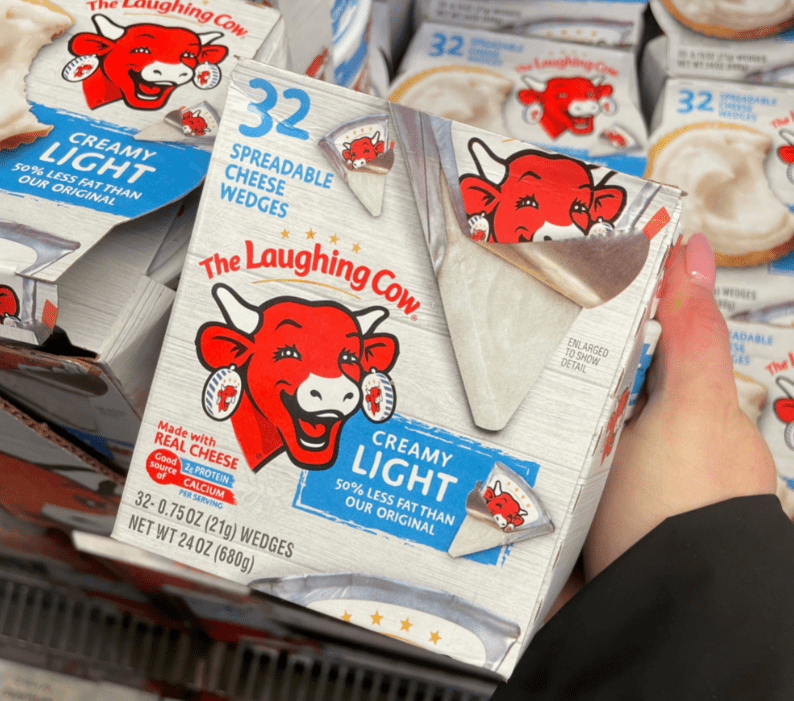 Laughing cow cheese. The game changer. Dip with crackers, make my Blackened Chicken Alfredo, put on breakfast sandwiches, replace cream cheese on bagels, use as a spread on pretty much anything, top rice cakes and add everything but the bagel seasoning. Super useful. This pack is extremely cost friendly too as it's approx. $7 locally and for me it cost $5 to buy one circle of cheese in the store.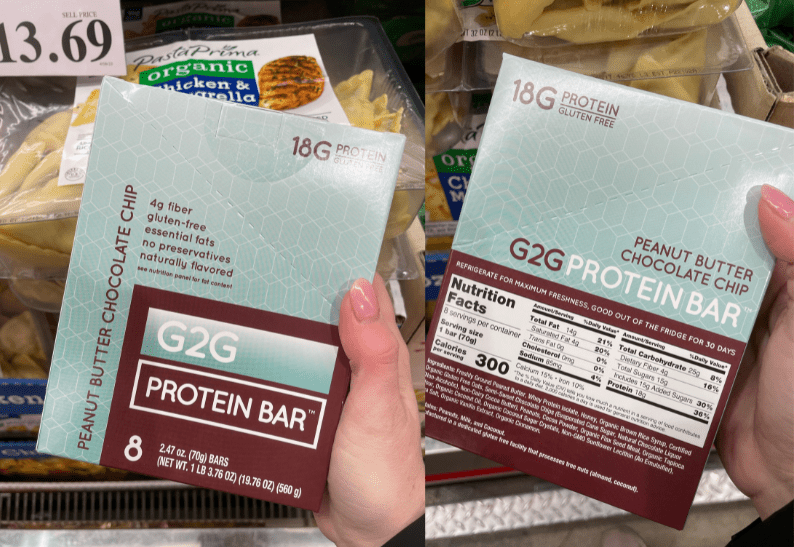 My favorite and my families favorite protein bar of them all. We buy this in bulk and usually have 3 boxes in the fridge and 3 in the freezer. While they're hard to incorporate into a cut since they're very high calorie, they're the tastiest protein bar around. 300 cals per bar 14 F / 25 C / 18 P. My daughter might turn into a G2G bar soon. I do have a G2G 15% discount code if you want to try other flavors. Use code OHSNAP.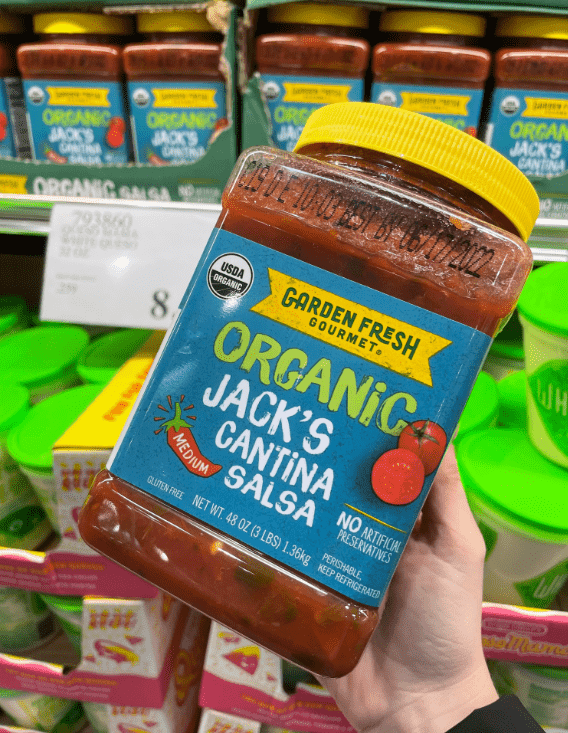 Delicious. 5 cals for 2 Tbsp. 0 F / 1 C / 0 P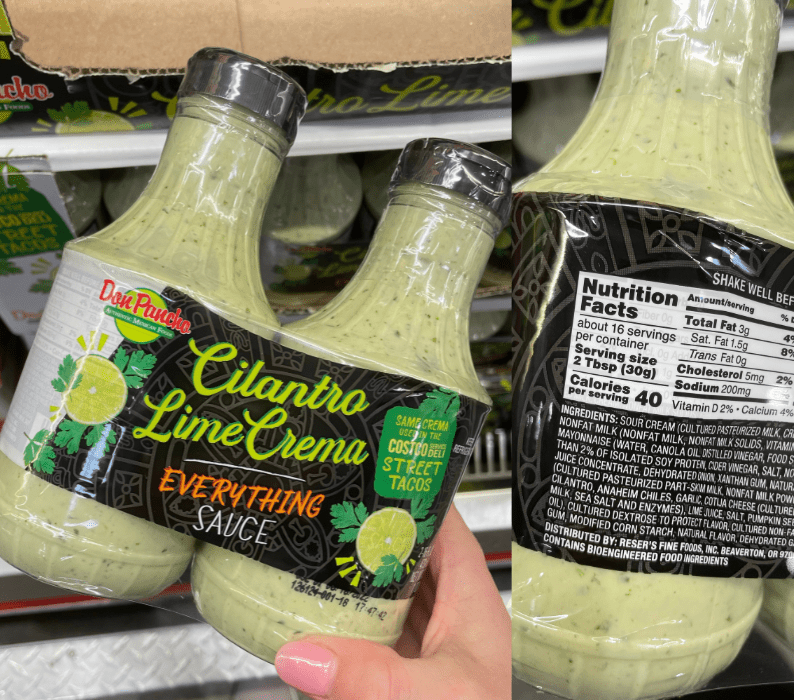 The best sauce ever. Hands down a must buy. You can put this on everything and anything. 2 Tbsp. 30 cals 3 F / 2 C / 1 P.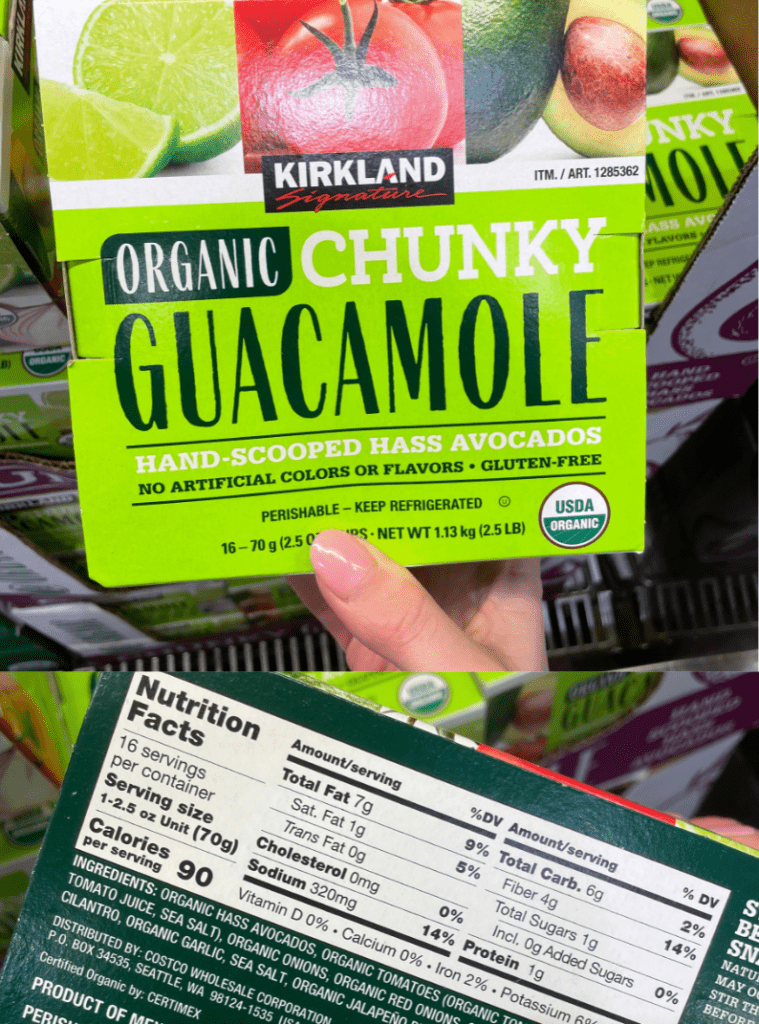 Individual guacamole cups. They freeze and defrost amazing and make the perfect little boo boo ice packs too. Add to toast, salads, sandwiches, burritos. Dip with crackers, chips, lavash chips, pitas.
1 cup 90 cals 7 F / 6 C / 1 P.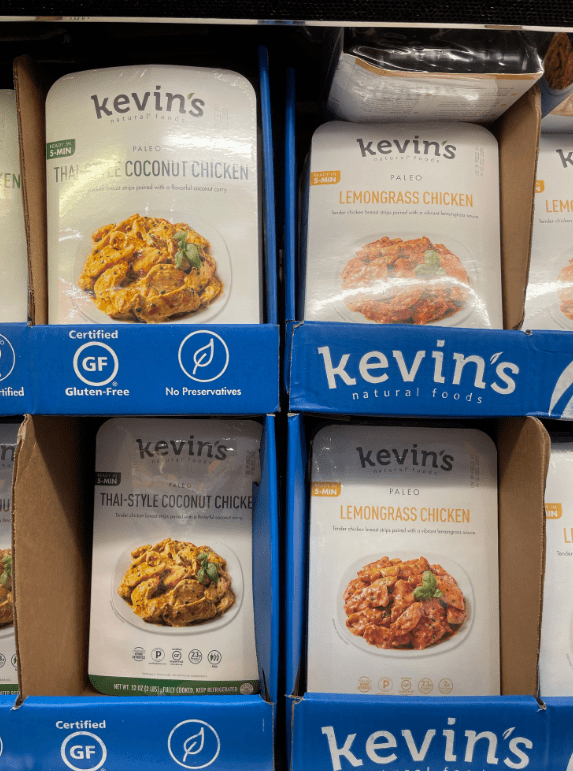 Kevin's to the rescue. Delicious quick and easy stovetop meals with great macros. The Pomegranate Pork is our favorite.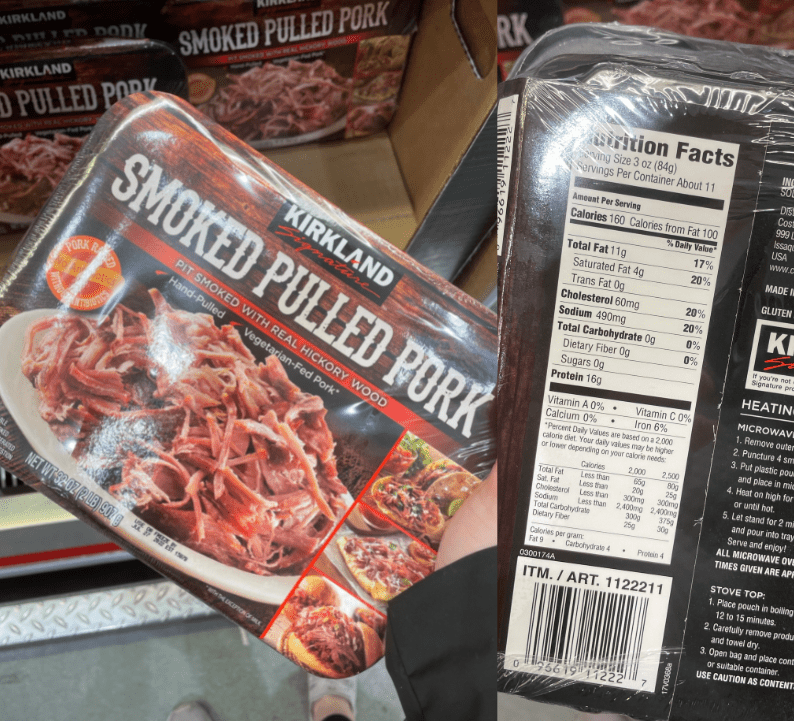 We always have a pack of this pulled pork in a freezer. We used to have this weekly especially when I was postpartum. It is so easy to make as it's ready in minute in the microwave and can be tossed on tortillas or in a salad.
I also like tossing in BBQ sauce and broiling for a alternate flavor add with leftovers.
3 oz. 160 cals 11 F / 0 C / 16 P.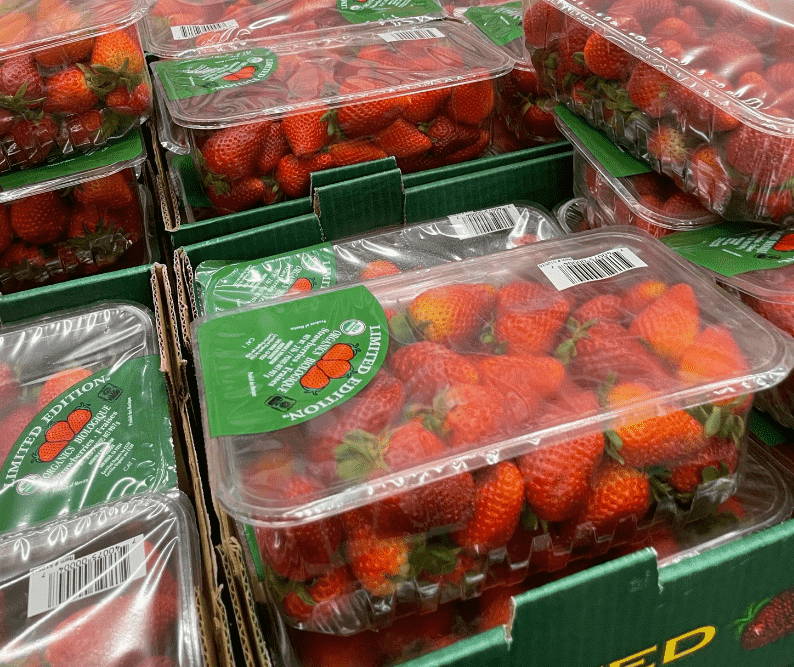 Fresh fruits and veggies!! The berries are usually must cheaper at Costco than our local store and way better too.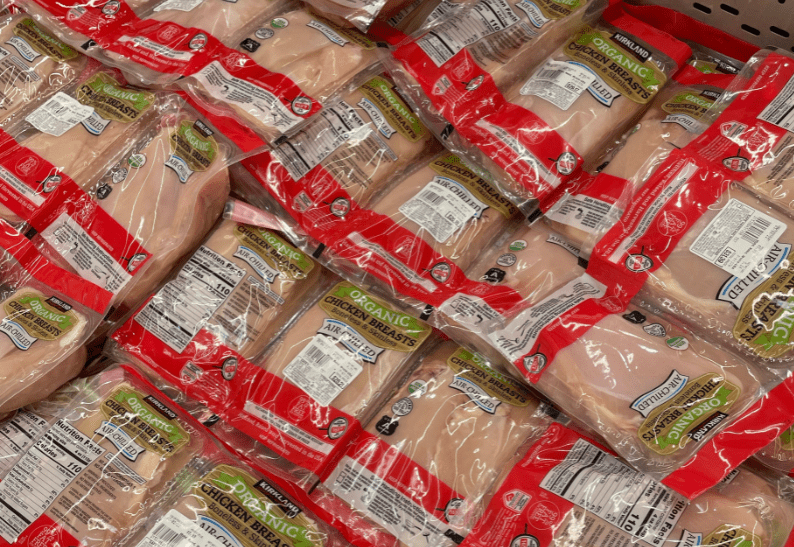 Bulk meat of course. Chicken breast, chicken thighs, ground beef, ground turkey and steak. I have found the prices to be significantly cheaper to buy meat in bulk at Costco than in store.
Ready Made Section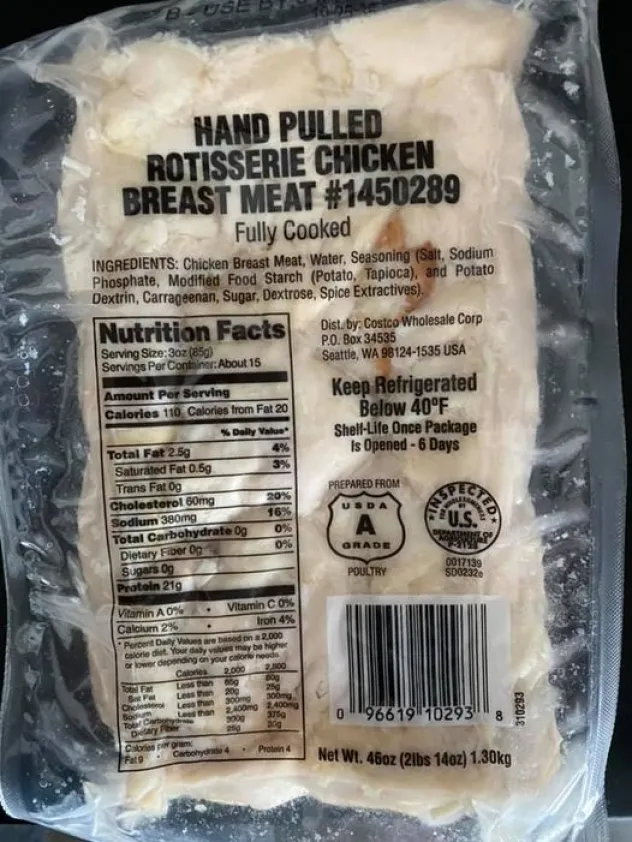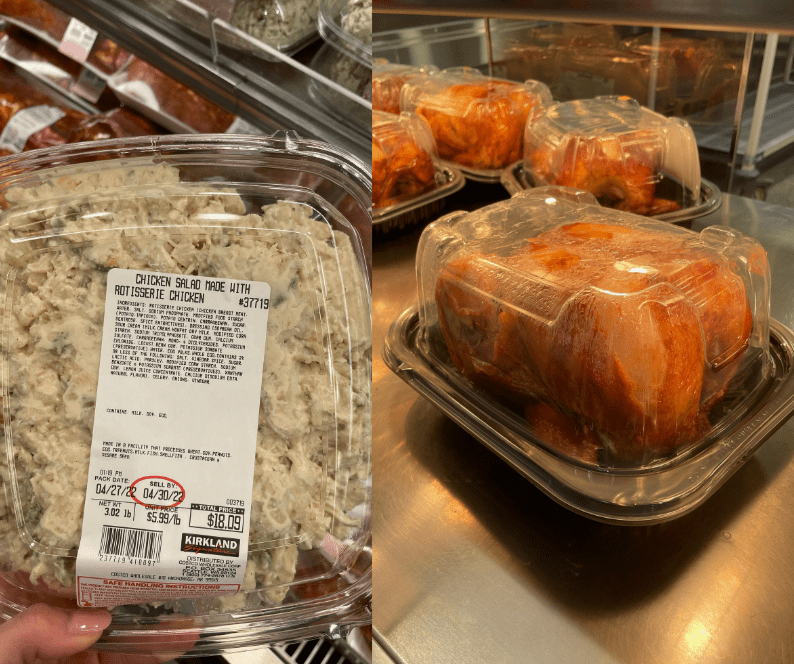 The hand pulled rotisserie chicken breast is a super easy way to meal prep. It is usually near the ready made section and comes in a vacuum sealed bag. Great for adding to sandwiches and salad or making chicken salad. If we're having a birthday party or BBQ I always pick up the chicken salad. I do not know the macros but it is dang good. Easy to throw on mini croissants or Hawaiian Rolls for guests to enjoy. However, can you manage to leave without a rotisserie chicken? Me either. The best meal prep around.
Some other things that are amazing in the ready made section, ie. Costco made them and they're in the deli ready to go home with you. I do not know the macros but I know they're delicious.
The roll ups. Roasted Chicken and Swiss Roller. I could eat all of them in one sitting.
Chicken Street Tacos
Chicken Pot Pie
Quinoa Salad
Pasta Salad
Frozen Section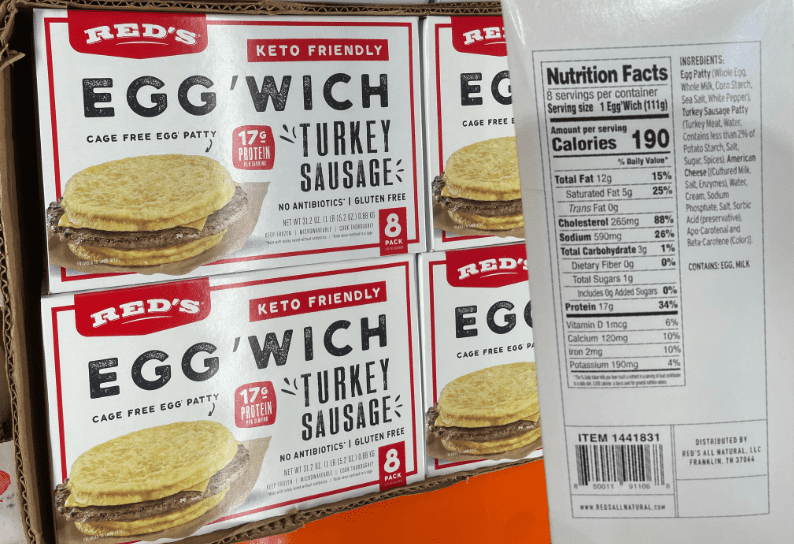 The easiest, macro friendly and delicious breakfast around. Heat one of these in the microwave and place between a light english muffin for a perfectly balance macro friendly breakfast. We make these for early fishing mornings. I heat them all up in the microwave, top with muffins, wrap in foil and then they're melty gooey and delicious to eat as we pull out of the harbor. Macros without english muffin: 190 cals 12 F / 3 C / 17 P.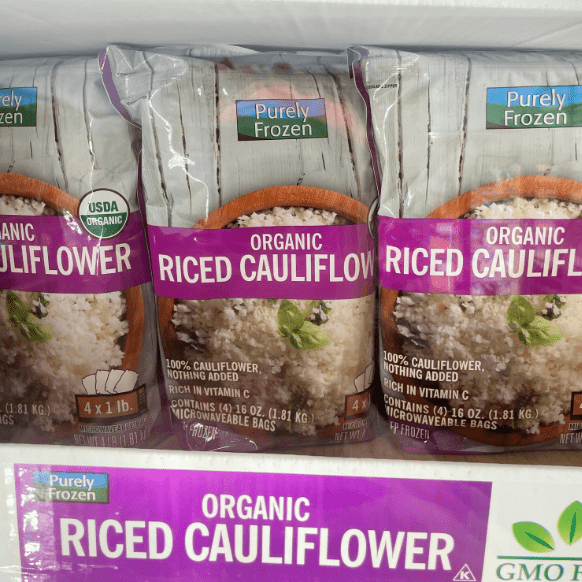 Quick and easy. The fried cauli rice is my absolute favorite. They did not have it in stock to take a pic unfortunately.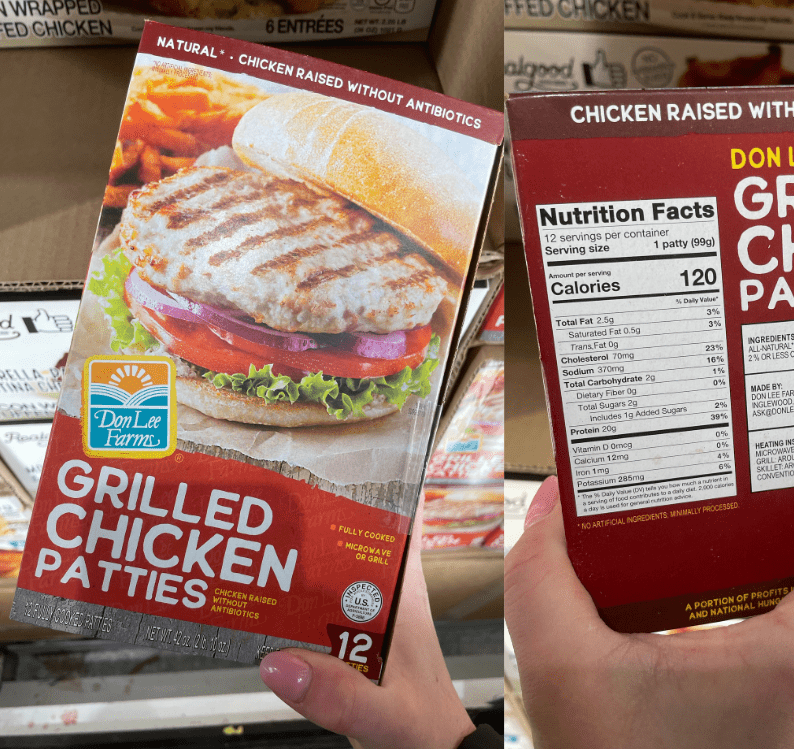 Great and another fully cooked easily prepared patty. 1 patty 120 cals 2.5 F / 2 C / 20 P.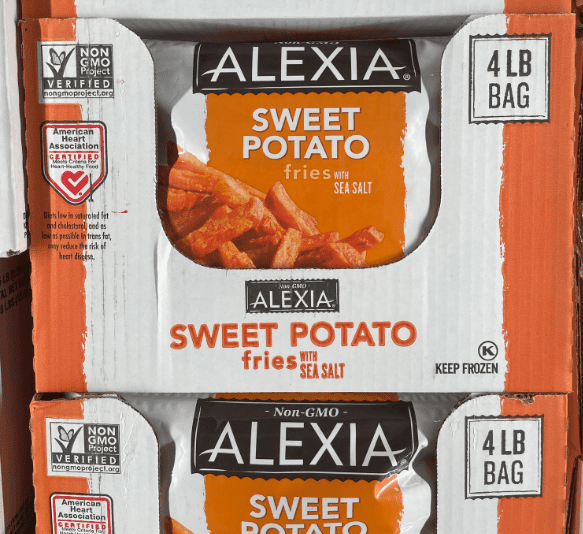 Make these in the air fryer for perfectly crispy sweet potato fries. We go through a lot of these with the kids and our weekly burger night. I dip in Bolthouse ranch and honey mustard. Remember – the macros are for the frozen weight not the cooked weight. 84 grams = 140 cals 5 F / 24 C / 1 P.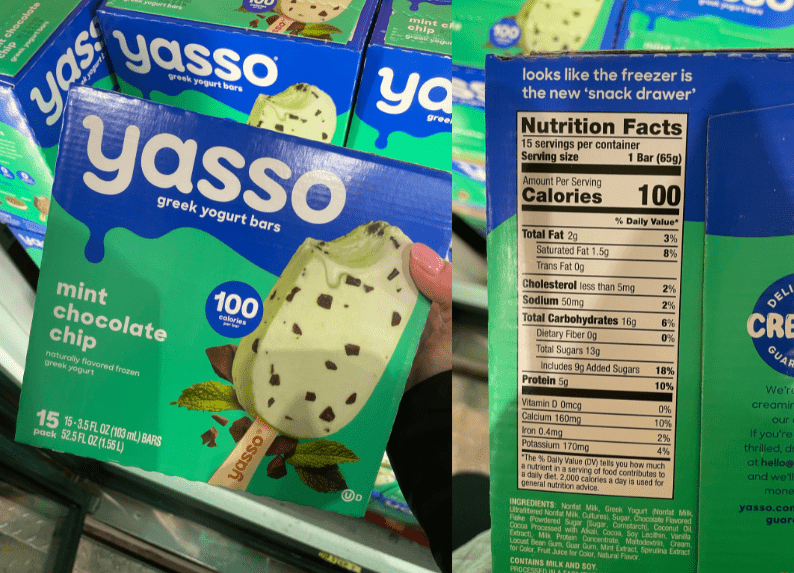 Light and refreshing. Not heavy. They're the perfect size and the macros are great. 100 cals per bar 2 F / 16 C / 5 P.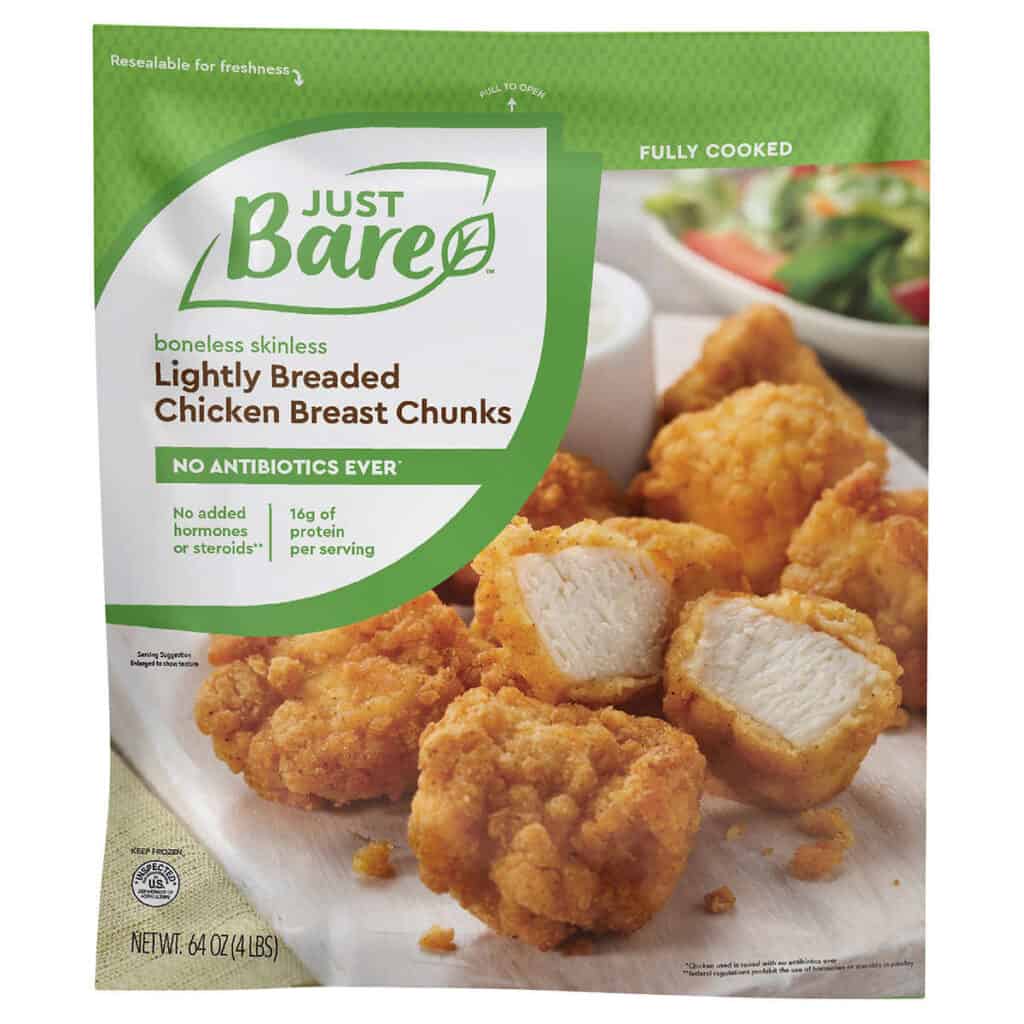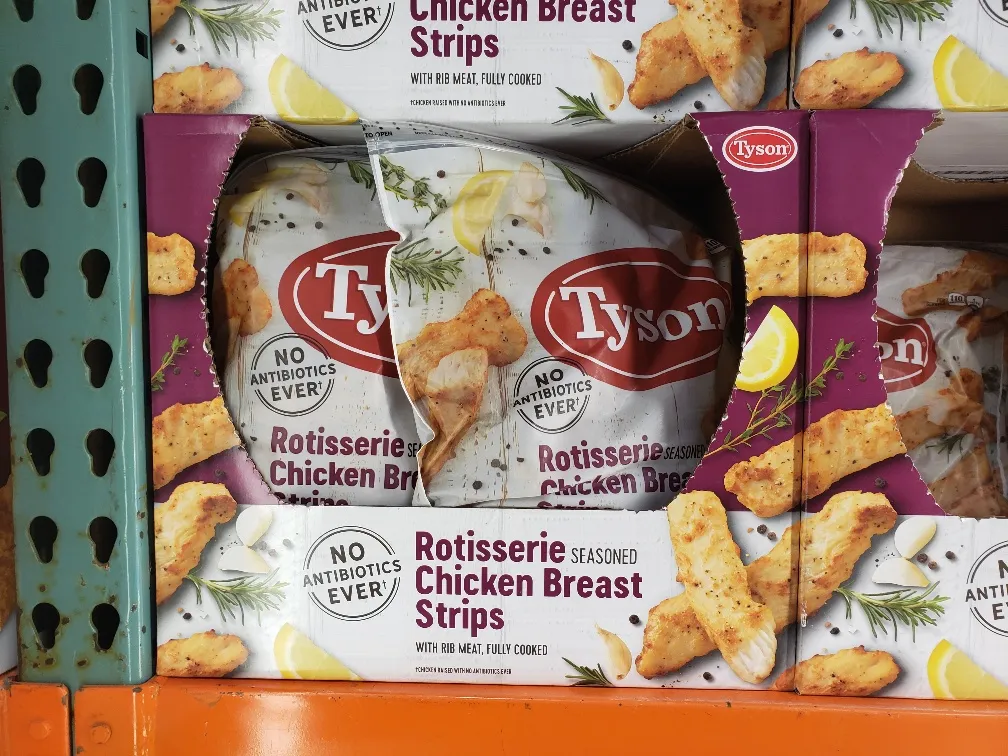 Costco has a ton of macro friendly frozen protein options. These are a few of my ready to eat chicken options.
Just Bare Nugget 3 oz. 160 cals 6 F / 9 C / 16 P
Rotisserie chicken 3 oz. 110 cals 3.5 F / 2 C / 17 P
Outside Aisles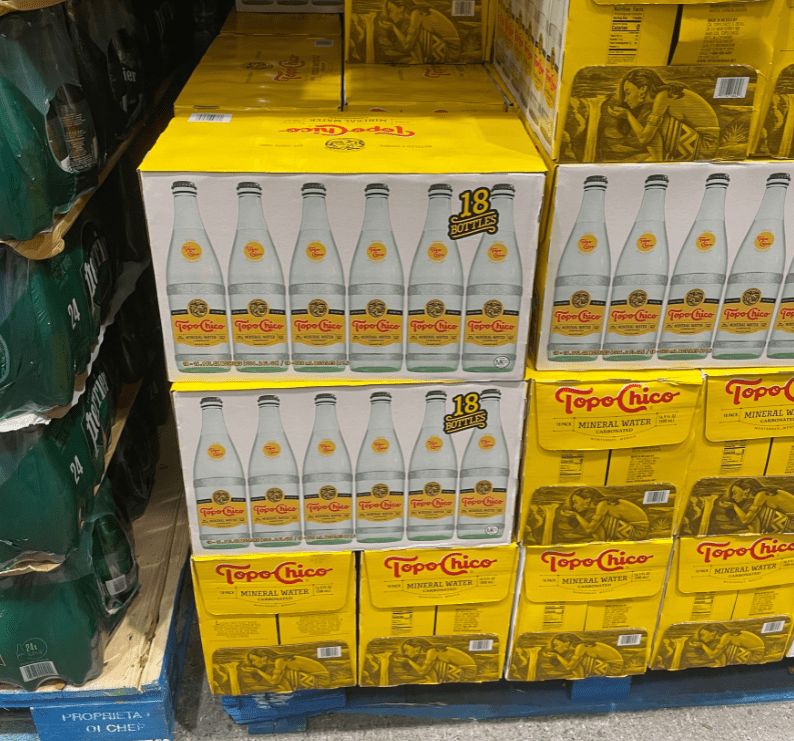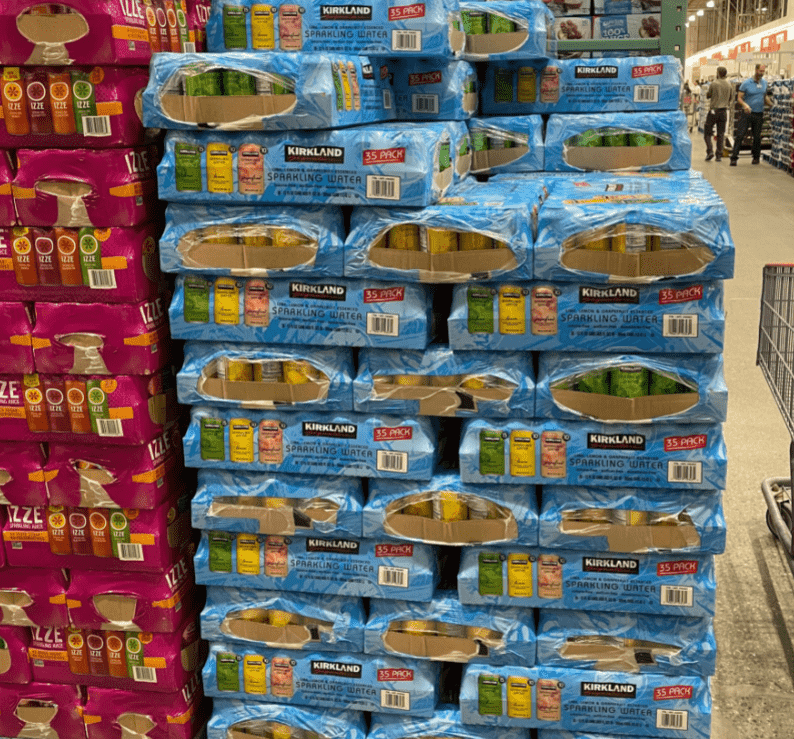 All the bubbly waters. We alternate between the Kirkland brand bubbly waters and La Croix. Topo Chicos are delicious although take up a lot of room in the recycle can. I always buy a pack of Diet Coke as well.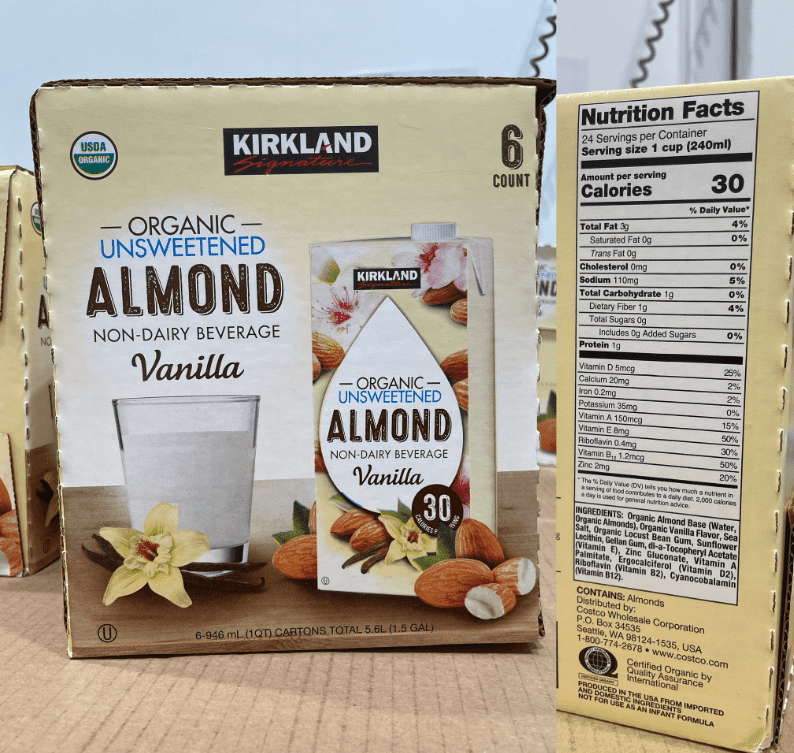 Every single day a drop in my coffee with sugar free vanilla syrup. We also use this almond milk in smoothies. 1 cup 30 cals 3 F / 1 C / 1 P.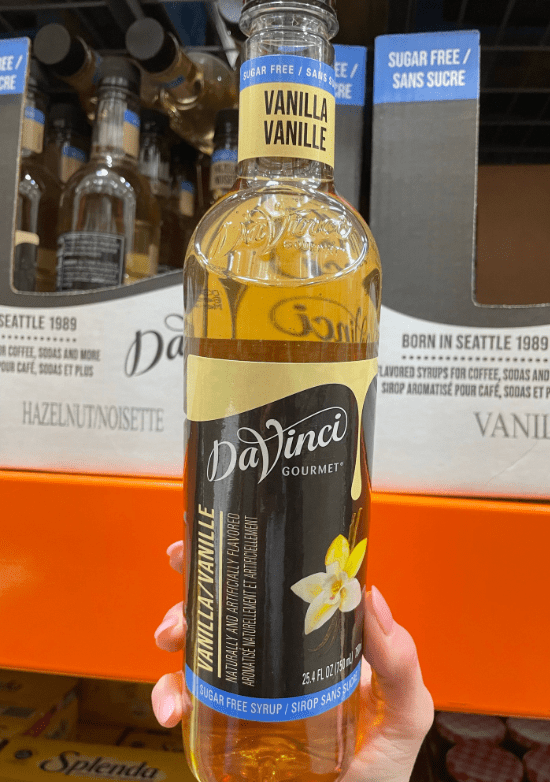 Sugar Free Vanilla Syrup. I buy 4 at a time. We go through this stuff so quick. It is so good and a dab will do ya.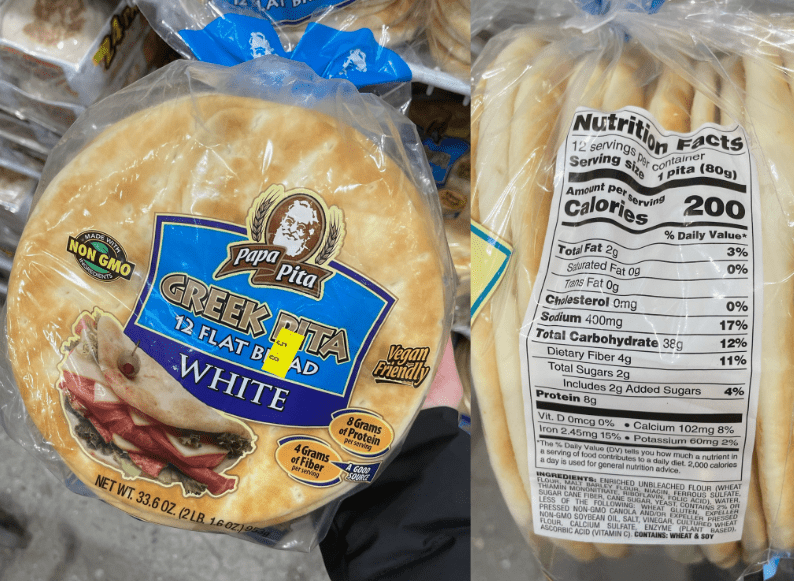 I cannot leave without my absolutely favorite flat bread pitas. If you've seen my posts during maintenance these were a daily occurrence. Pizza, breakfast, lunch, snack, dinner, these will be your best friend. My kids also love them. High cal, 1 pita 200 cals 2 F / 38 C / 8 P and amazing. Not pictured we also pick up a 2 pack of Dave's Killer Bread. The girls eat a lot of that.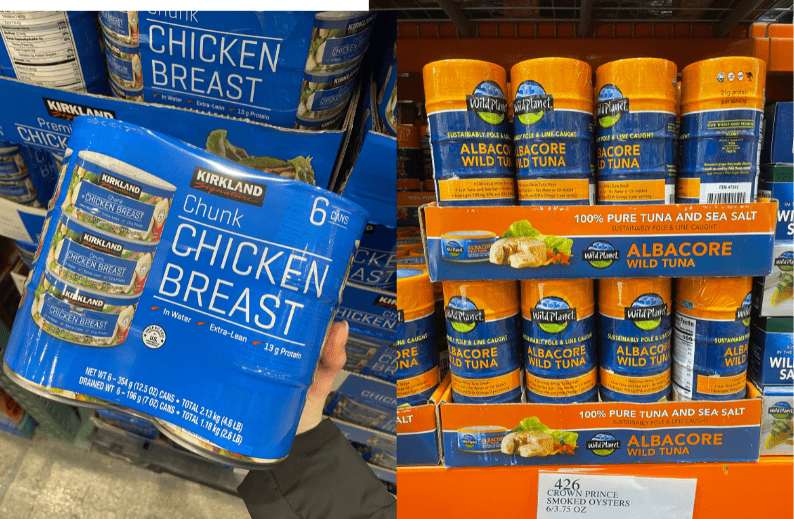 Chicken in a can always weirded me out until I tried it years ago and then I became addicted to making chicken salad similar to making tuna salad. This chicken in a can is delicious. Not weirdly textured at all.
If you have not tried Wild Planet tuna stop what you're doing and go get some. It will change your thoughts on tuna instantly. I've always been a huge tuna fan and it is usually the food I miss the most while pregnant. Wild Planet tuna though is on another level of delicious. Try is and let me know what you think.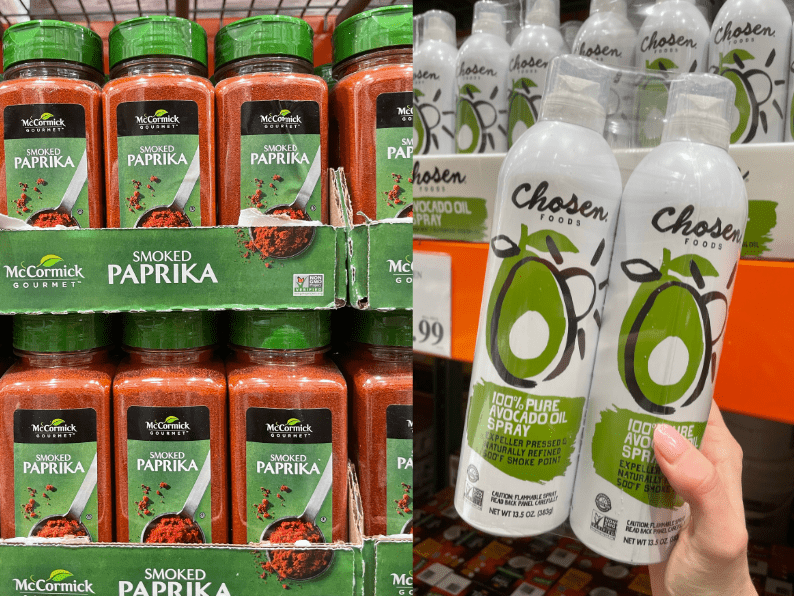 Obviously I go through a lot of spices so Costco is the most economical for me. If you've tried your way through my recipes then you probably are ready to get the Costco smoked paprika too, even if just for Air Fryer Blackened Chicken.
I only use this Chosen Foods spray. No other cooking sprays or oils.
Snack Section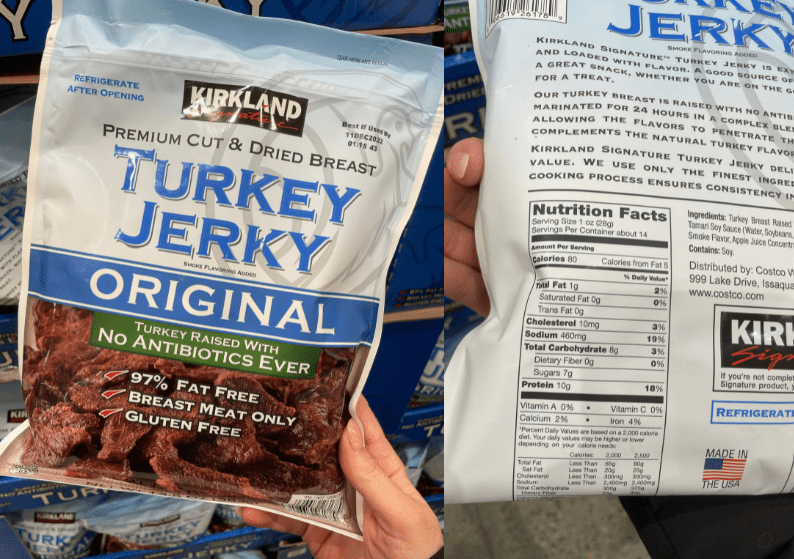 I never grow tired of this Turkey Jerky. I could eat the entire bag in one sitting. If you get a good bag it is not dry at all. Sometimes you come across a dry bag (similar to the dried mangoes – sometimes you get a dud dry bag IYKYK).
1 oz. 80 cals 1 F / 8 C / 10 P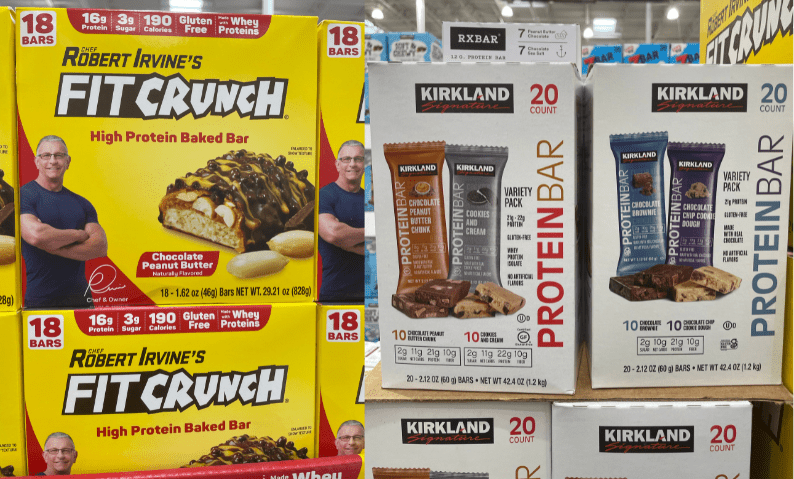 Lots and lots of protein bars. Pick your favorite and what fits with your macros.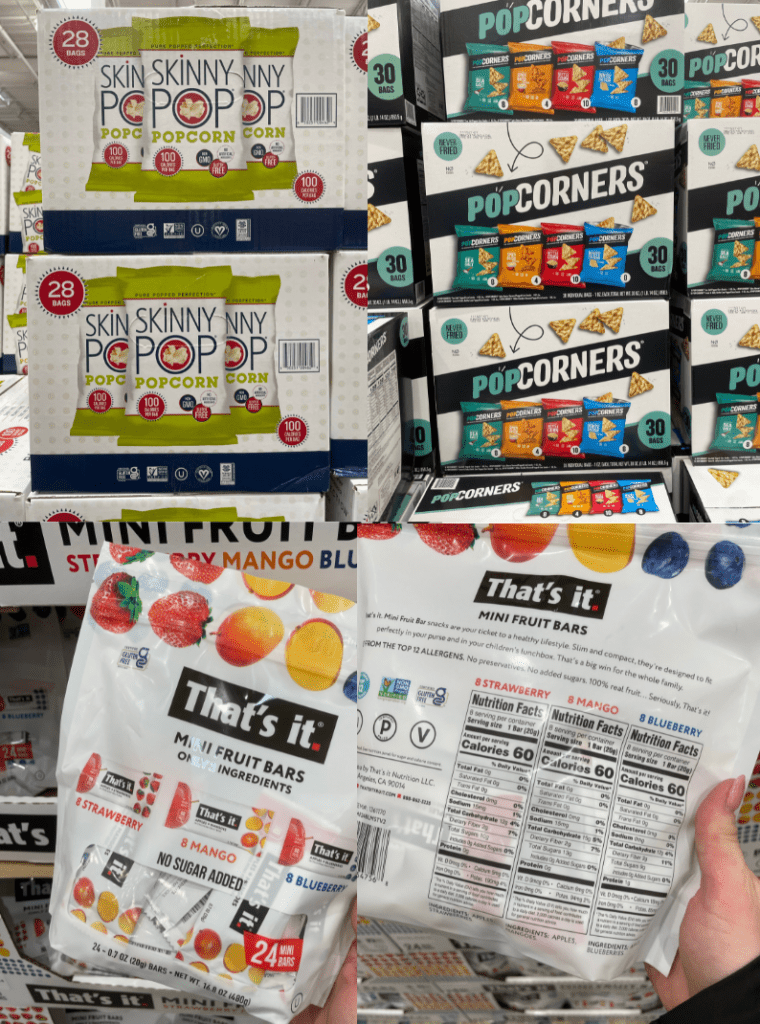 Love love love having individual serving packs. It makes it easy to grab and go, give ones to the kids and takes out the measuring for you. All 3 of these are a must have in our house.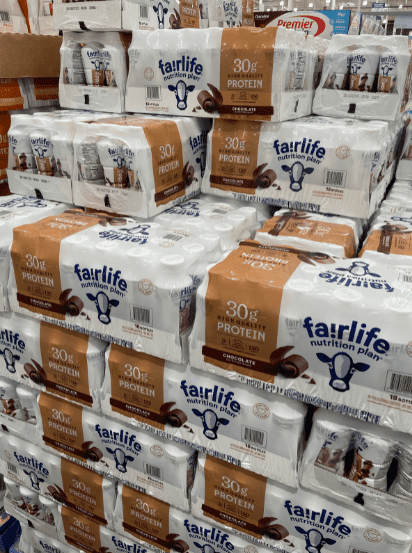 Fairlife Chocolate Protein Shake. Tastes like chocolate milk. Definitely my favorite flavor. Second is the strawberry banana but not available at Costco. No protein powder taste at all. 1 shake – 150 cals 2.5 F / 4 C / 30 P. Easy on the go and no need to refrigerate.
Misc. Items
Toilet Paper
Paper Towels
Huggies Diapers – much cheaper here!!
Kirkland Formula which they might not actually make anymore was great!
Overall Costco Review
While this is not a full list of items I have tried from Costco, this is a list of what we are buying regularly. If I like the item it will be on this list. If I do not like the item, it will not be on this list. Easy as that. I will never share with you something I do not personally use, would not give to my family nor enjoy.
We have had terrific experiences with Costco with not only food but electronics, appliances and plants.
I hope this post helps you on your next trip!! Let me know in the comments.